Post-Thanksgiving Dinner Clean Up: Cleaning Oven Prevents Oven Fires
11/26/2018 (Permalink)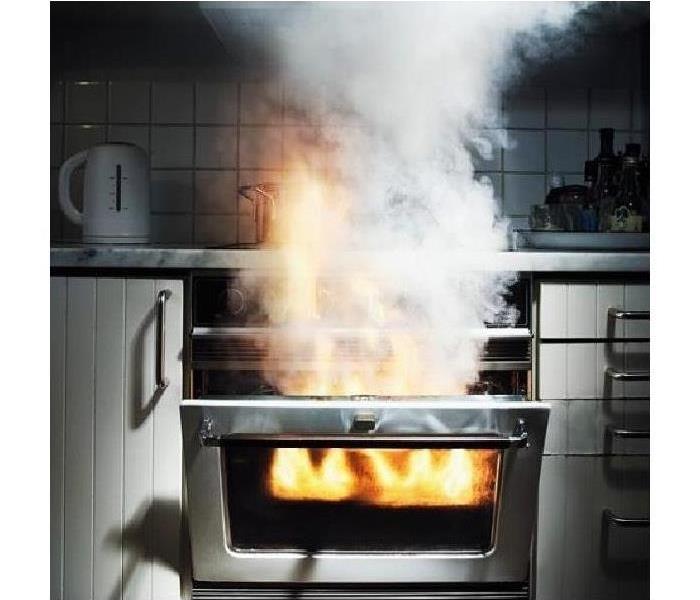 Oven fires have several causes:
Forgetting the oven is on and burning food.
Cooking an item with a lot of fat and grease that splatters and causes a flame.
Overflow and dripping of batter while baking.
Old food left in the oven from prior meals can catch on fire.
Although cleaning your oven may seem hard and require harsh chemicals it doesn't always. Here is a great way to clean your Post-Thanksgiving dinner oven naturally.
Cleaning Your Oven Naturally
Materials and Ingredients
1 Scrubbing Pad
1 Cloth or Dish Rag
1 Spray Bottle of Distilled White Vinegar and Water - 50/50 mixture
Oven Cleaner Paste Ingredients
2 Tablespoons of Castile Soap
15 Drops of an Essential Oil (Wild Orange, Lemon, Melaleuca, or Rosemary)
2 Tablespoons of Water
To start, spray the entire inside of the oven and the oven door down with distilled white vinegar to moisten the area and get it ready for scrubbing.
Add some of the Oven Cleaner Paste to a scrub sponge.
Scrub the inside of the entire oven and door with the oven cleaner paste.
The paste will work with the scrub sponge to remove any burned-on foods or spills. If you have tough to remove spots, spray some more vinegar and add more paste. Let that sit on the spot for 10 minutes, then come back and scrub the spot away.
Use a cloth or dish rag to remove all of the dirty paste, then wipe the inside of your oven down with warm water.
Now your oven is ready for your next meal. Enjoy your freshly clean oven and feel easy that your home is safe from any future oven fires.
SERVPRO of Egg Harbor/Ventnor City is here 24/7 if you ever have fire damage. Save our number now and call us when in need at (609) 383-9785.