Cooking Fires
1/3/2019 (Permalink)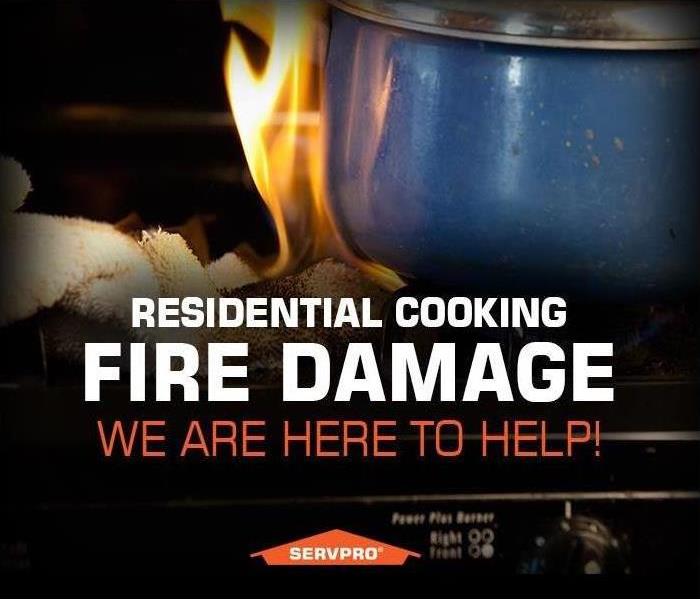 Year after year cooking fires are the leading cause of home fires and fire injuries. According to the National Fire Protection Association (NFPA), cooking accounts for about 47% of home fires and 45% of the fire-related injuries reported across the country each year. The NFPA says holidays are the peak seasons for these incidents. Make sure you keep yourself and your family safe this year with these safety tips.
REDUCE THE RISK OF FIRE IN THE KITCHEN
National Fire Protection Association (NFPA) says 6 out of 7 cooking fires occurred while the cook was out of the kitchen, and 2/3rds of these fires happened in the first 15 minutes of cooking. So the BEST THING you can do to keep you and your family and property safe this year, ALWAYS watch what you're cooking. If you're using the stovetop, stay in the kitchen and watch closely. Also, experts recommend setting a timer periodically to remind you to check the oven.
OTHER FIRE PREVENTION TIPS INCLUDE
Roll up sleeves and don't wear loose fitting clothing that could catch and open flame or heating element
Ban children and pets from a 3-foot "safe zone" around the stove
Keep the stove and oven clean, turn pot handles in to avoid spills and cleanup any messes when appropriate
Keep potholders, dishtowels, oven mitts, food packaging and other clutter off and away from the stove.
Clean cooking equipment thoroughly because built-up grease can catch fire.
Don't overheat your oils, and wait for grease to cool before disposing, tossing hot grease in a trashcan could turn into a disaster
Smoke detectors are your first line for defense against a fire disaster situation so make sure you have one installed in or near the kitchen and make sure it's working properly.
IF A FIRE DOES HAPPEN, CONSIDER THESE SAFETY TIPS
Just get out, close the door behind you to help contain the fire.
Call 9-1-1 or the local emergency number after you leave.
For an oven fire, turn off the heat and keep the door closed.
Keep a lid nearby when you're cooking to smother small grease fires. Smother the fire by sliding the lid over the pan and turn off the stovetop. Leave the pan covered until it is completely cooled.
People often try to put out cooking fires themselves with a fire extinguisher or even water. NEVER use water on any grease fire. Store fire safety equipment in a cabinet or under the sink – It's important to have a fire extinguisher close by as well as a box of baking soda or salt for grease fires. The first step you can take is turning the stove off and having a lid handy to put over the pan you can also smother the fire with baking soda or salt. If the fire is in your oven just close the door and turn off the heat. Done improperly your cooking fire can spread to other parts of the kitchen, any time you are unsure of how to combat a fire your best option is to leave and call your local fire department.
Although we hope this never happens, our SERVPRO team is ready to help the community of Egg Harbor Township, Northfield, Somers Point, Pleasantville, Ventnor, Margate, and Long Port in any type of fire and water disaster. Just call us at 609-383-9785.