9 Questions to Ask Before Hiring a Water Damage Restoration Company
12/9/2022 (Permalink)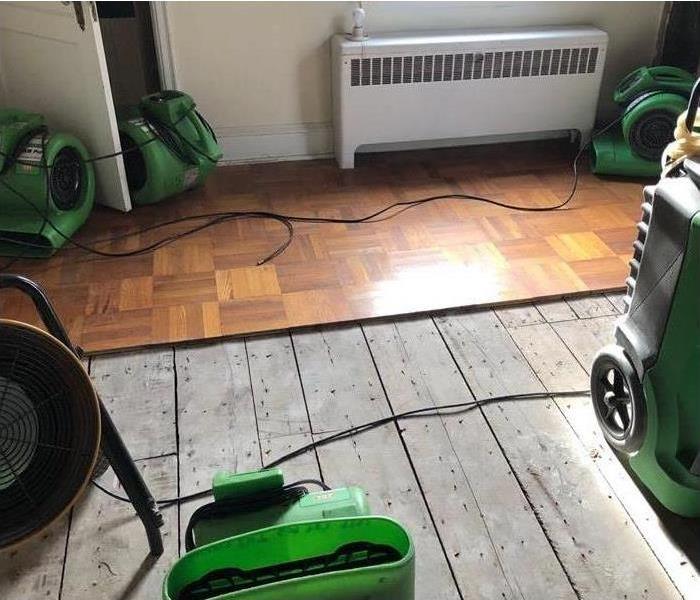 Don't be afraid to ask these questions, as they are all reasonable and pertinent to the services you will receive.
9 Questions to Ask Before Hiring a Water Damage Restoration Company
The water damage restoration industry is a highly competitive industry to be in. No matter what city or state you live in, there are likely many restoration companies to choose from after suffering from a water loss. That's why it's important to do your research when choosing a water damage restoration company. The last thing you want to do is hire an inexperienced company to handle your water disaster. You want to make sure they have the right equipment, staff, and training to handle any type of water damage. So, before you hire a restoration company, ask them questions about.
1. How Long Have They In Business?
It's important to ask a restoration business how long they have been in business because not only does it show that they have been around for a while, which means they're likely to be more reliable, but it also shows that they are experienced and know what they're doing. If you're looking for a company to do some work on your house, it's best to find one that has experience with that kind of work, so you can trust that the job will be done well and correctly.
Make sure to ask the restoration business the following:
How long have they been in business?
How long have they been in the industry?
How long have they been providing this type of service?
2. Do They Have a License?
It is important to verify that your water damage restoration company has a license. In some states, it is illegal for anyone other than a licensed contractor to perform any type of water damage repair. Licenses are an excellent indicator of quality because they indicate that the company has met certain standards and has been reviewed by a third-party appraiser.
3. Do They Have Experience?
The next step is to ask about their experience. You need to know that the company has had experience in dealing with your type of water damage, whether it is a flood or another type of disaster. How many times have they performed restoration services like yours? What types of jobs have they completed in the past? Do they have references? It's important to ask these questions because if they haven't done this type of work before, there may be some mistakes made that could cost you more money down the road.
4. What Services do They Offer?
Once you've established that the company you're considering is licensed and insured, it's time to start asking questions.
What services do they offer? Water damage restoration companies will typically offer a variety of services including water removal, dehumidification, furniture removal and air quality testing. They may also be able to help with odor removal as well as sanitation and cleaning. A good water damage restoration company will also be prepared to restore your property back to its pre-damaged state.
5. Are They Available 24/7?
If you have an emergency situation, it's important to know that your water damage restoration company can be reached 24/7. What happens if you have a flood at 2am? Will they pick up the phone and help you then? You want a company that will respond quickly when you need them most. That's just one of the benefits of working with a full-service restoration company such as SERVPRO of Egg Harbor/Township—they're available 24/7 for emergency calls or after-hours emergencies.
6. Will They Work with My Insurance?
While it is your job to pay for the repairs, you will find that many insurance companies are willing to reimburse you if they can determine that the damage was not your fault. Insurance companies have their own process for deciding whether or not they will pay for a claim. If you have any questions or concerns about this process, ask before hiring a company.
7. What Type of Equipment Do They Use?
Water damage restoration companies have a myriad of equipment at their disposal. Some of these tools are considered standard industry equipment, while others are unique to the company you choose. One way to find out what type of equipment they use and why is by asking them about it directly. If you're not sure what they should be using, here's a list:
Dehumidifiers – These machines remove excess moisture from your home so that it can dry quickly and prevent mold growth. They also keep humidity levels low which prevents further damage from occurring in your home
Steam cleaners – This machine uses high-temperature hot water steam to clean up any remaining dirt or grime left behind by the flood water in your house after it has been removed
Air movers – These fans blow air around your home so that all its surfaces get dried properly before being covered up again; this helps prevent further damage from occurring because airflow will be improved thus allowing better circulation throughout every room
8. Are the Technicians Trained?
One of the most important questions to ask when hiring a water damage restoration company is whether or not they have trained technicians. This will allow you to be certain that the job will be done right and in a timely manner, which can often mean the difference between having dry floors and walls or remaining damp for weeks on end.
Trained technicians are also more likely to do an excellent job at cleaning up your Northfield, NJ home after it has been damaged by water because they know what equipment works best for removing mold and mildew from surfaces such as carpeting or drywall. If there is no training involved, then chances are good that whoever comes out to assess your situation might not know how best clean up after such an event.
Trained technicians are much faster than amateurs when it comes time for repairs because they have been taught how best get rid of all moisture as soon as possible!
9. What Will the Process Look Like?
What will the process look like? How long will it take for them to be on-site, and how long does each step take? It's important to know these things beforehand so that you can plan appropriately.
How will they remove water and dry your home? The type of drying equipment used depends on several factors, including where your home is located, its construction materials, and whether it was flooded by sewage or fresh water. However, they should still have a plan in place for dealing with any kind of water damage situation.
Don't be afraid to ask these questions, as they are all reasonable and pertinent to the services you will receive. This information will help you determine if a company is right for your needs or if there are better options available.